Pfft. Een klein beetje Verstappen gevoel. Effe lekker jakkeren met de greenspeed.
Even langs de Catterboekerplas.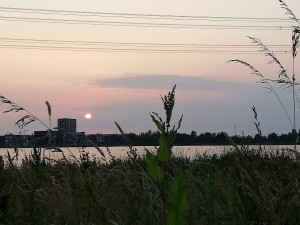 Inmiddels is de week rond en staat het totaal nu op ruim 130 kilometers. Op mijn Sinner was het allemaal te doen. Zeker als je daar al weer een flink aantal kilometers mee hebt gereden. En toch. Toch spelen bepaalde spiergroepjes hun eigen melodie bij het bestijgen van dit prachtige scheurijzertje.Bochten? Fantastisch om te doen. Maar goed, de spieren he?  Of is het de warmte? Maar gek blijft het. Wennen moet je bijna niet en toch weer wel. Want ergens gebeurt er iets met de beenspieren die je kennelijk toch op een andere manier aanspreekt. Of dit iemand aanspreekt? Ach, de trikers zullen het wellicht herkennen. Maar? 't Gaat steeds beter, en? 't Gaat steeds sneller, zeg maar makkelijker. Ook de aanvangssnelheid begint me te bevallen. In het begin voelde ik wat stuuruitslag, maar ook dit lijkt allemaal minder te worden. Ook stukken met losse handen gaat steeds beter, zonder meteen van de weg te zwieren. Inmiddels heb ik ook maar eens off road mijn activiteiten uitgeprobeerd. Ook daarover is deze triker te vre den.